As promised, I'll be sharing some of the techniques that
Nikki
and I used to co-author
Beneath the Surface.
(Nikki's also sharing her tips, so be sure to check out her blog too.) Our experience is particularly unique because we've never met in person. Nikki lives in California; I live in Florida. We're separated by thousands of miles and three time zones. But we still made it work. Here's how.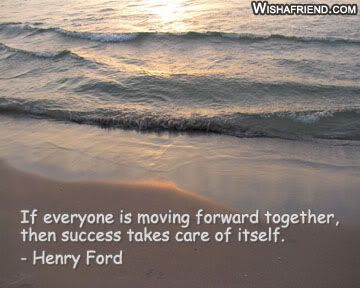 Myspace Quotes
,
Teamwork Quotes
at WishAFriend.com
1. I asked Nikki to work with me because I had read her first novel,
Shoreline
, and felt our writing styles were compatible. My first book is a retelling of a Greek myth; hers draws heavily on mythology, although it's set in present day. So for me, step one was finding someone with similar interests and a comparable writing style. I can thank #YALitChat for allowing us to meet.
2. We researched how other sucessful co-authors (notably Kami Garcia & Margie Stohl) have made the process work for them. The main goal is to have seamless writing- it's imperative that the voice remain the same from chapter to chapter. So our first & most important rule of co-authoring is that either of us can change the other's words, no questions asked. We don't red line and ask the other for permission. That was the primary ground rule we established before we started writing.
3. Our last step before we started writing was to create very detailed character skeches and a pretty thorough outline. When I say detailed, I mean we went online shopping for all of our characters. We picked out outfits & shoes typical of them all. We nailed down their personality quirks, favorite everything, all biographical information. In conjunction, we created a fairly detailed outline. Our characters are working on a set timeline (2 weeks), so we laid out all 14 days and made sure we had a general idea of what needed to happen each day & night. (And yes, we did go back & revamp the outline when we were about 1/2 way through.)
Sheri asked specifically last week:
How do you collaborate ideas at the very beginning
?
I had the primary idea for BTS when we got started, but I had stalled and didn't know where to go with it. Nikki and I wrote back and forth, exchanging ideas. Then, we started the outline, again passing it back and forth. I'd fill in some ideas and e-mail it to Nikki. She'd add to it and send it back. We passed in back and forth until we'd created a story line and characters we were happy with. Along the way, we'd ask each other questions. How would this work, etc.? And it helped us solidify the mythology in our minds before we started writing.
So that was our getting started process. Next week I'll talk about how we divided work and did the writing. Got any questions? Leave us a comment and we'll be sure to answer.